Peloponnesus Cruise.
Yoga Retreat Plus: June, 24th, 2023 - July, 1st, 2023.
Every year we are happy to host some special cruises with the most skilled and profound teachers onboard.

This summer we invite you to join us on a Yoga Retreat Cruise!

Peloponnesus Cruise. Yoga Retreat Plus, June, 24th, 2023 - July, 1st, 2023
Every year we are happy to host some special cruises with the most skilled and profound teachers onboard.
This summer we invite you to join us on a Yoga Retreat Cruise! 
Instructor: 
We proudly present you 8 days on board with our yoga instructor Naïr, who specializes in Vinyasa Yoga. Trained in India, Barcelona and Colombia, Naïr offers her own remix of techniques, creating her own style and paying special attention to the well-being of each of her students. Her classes are always an immersion into oneself, experiencing yoga from a therapeutic and holistic point of view. Through Vinyasa, its fundamentals and its flow, she teaches you to integrate this practice into your life.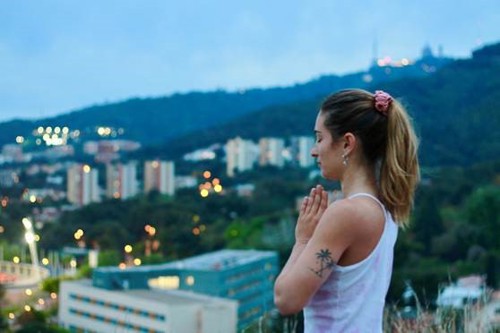 The Boat: 
We will be sailing aboard an exclusive three-mast sailing vessel Running on Waves. With a length of 64 meters, she is one of the biggest sailing yachts in the world. This unique superyacht is designed to provide an amazing experience for its guests: from accommodating your gastronomic preferences to organizing instant tender services, shore excursions, water fun and any other extras, whatever they might be.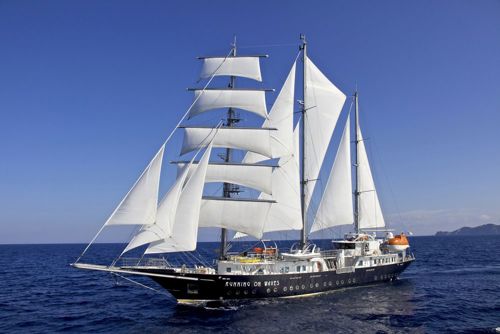 All aboard!
On day 1 you will board the Running on Waves ship in Piraeus port of Athens, a gateway to Greece's fabled isles. Located in the southeast, it has attracted adventurers and classicists for centuries. Piraeus itself has many attractions to fill an entire vacation, including religious and historic landmarks, and the Greek capital Athens is located nearby, just around 12 kilometres from Piraeus port. 
From the moment you see Running on Waves ship's masts towering above the port, and throughout the voyage you are encompassed with its signature feel-at-home service Running on Waves is renowned for. The skilled crew will see to your every need and anticipate your every desire.
A welcome cocktail and delicious dinner from the chef, and an acquaintance with the ship and the crew will be waiting for you!
The first moments of each day are really precious. It's a time when we can influence how we are going to think, act and respond for the rest of the day. 
Daily 8 AM Yoga sessions onboard are designed to wake you up with the rising sun and do gentle all-levels welcome yoga. Starting with a short meditation to connect ourselves and our intentions for the day, the flow with the postures is slow and easy to follow for everybody. 
Our 2nd day will include a visit to Monemvasia, a Medieval Castle Town, exclusively carved on a huge rock looking as if it came down from a fairy tale. Go back in time wandering in paved narrow streets, viewing the elegant stone mansions and the Byzantine churches, such as the church of Agia Sophia and Christ Elkomenos. Don't miss the breathtaking sea view from the top of the Castle during your visit.
In the evening we'll start the first of five special yoga sessions with the Element Earth Special Yoga Session, related to the 1st Chakra. We work our roots through our legs and feet practicing balancing poses, strength, and resistance on our legs, increasing our security and our attention in the present moment. 
Next morning after the 8 AM Yoga session, we arrive in Pylos, famous for its historical and natural attractions. Among them are Paleokastro, Niokastro, the cave of Nestor, the lagoon of Gialova, and the bay of Voidokilia - one of the most spectacular beaches and bays of Greece. The impressive ancient trees that dominate the Square of Trion Navarchon, downtown, combined with the breathtaking views of Sfaktiria Island create a separate idyllic atmosphere.
At 17:30 we advise to be prepared for another special yoga session related to the 2nd Element - Water. We'll work on our flexibility by opening our hips and stretching our legs, increasing the flow of water, allowing us to liberate and heal emotions, and increasing our creativity and our sexual energy.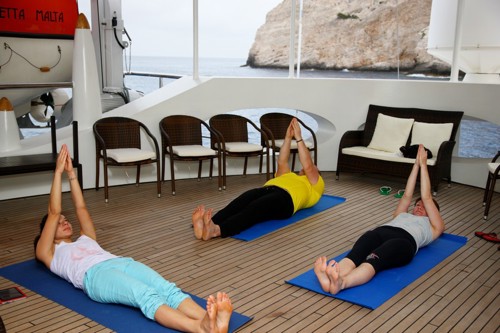 On day 4, start your day with 08:00 Morning Yoga, which will help your body feel more alive and allow some contemplation and me-time. 
After that a visit to Katakolo awaits us. Katakolo is a gateway for the archaeological site of Olympia, the birthplace of the Olympic Games.
Adjacent to the port is the sunken ancient city and port of Pheia.
This small picturesque town offers a variety of restaurants, coffee shops, and the view of a traditional lighthouse. 
At 17:30 get ready for an Element Fire Special Yoga Session in Olympia! 
Working with our 3rd Chakra, we'll be doing a special yoga session focused on the Fire Element. We work our core in power yoga sessions, where we work with strength and resistance, resting in soft twists that help us to increase and release our inner fire. 
Our mornings on board are all about yoga, and Day 5 is no exception. 
After that Kefalonia, the largest Ionian island, welcomes you with the world's best beaches, rare Caretta caretta turtles and wild Black Mountain. Mystery seems to live everywhere here: in caves with underground rivers, with sacred snakes coming to Lagouvarda monastery, and at archeological findings.
Kefalonia is the island of sailors and mountain climbers, Greeks and Venetians, winemakers and travelers. Pop into the local winery, where six kinds of Kefalonian wine are being made out of Robola grape.
Fifth day's Element Air Yoga practice at 17:30 in Kefalonia is focused on opening our 4th Chakra, working with our backbends and shoulder mobility. Feel more liberated and expansive after this class that ends with a special breathing session. 
Next day, take a step along your path of self-discovery through 8 AM Morning Yoga practice, that will help to relax, energize and rejuvenate your body. 
On day 6 Itea, located in the Gulf of Corinth, welcomes you! It is a cruise port from which travelers can visit Delphi, an ancient sanctuary that grew rich and greatly influential as the seat of Pythia, the oracle who was consulted about important decisions throughout the ancient world. Imagine yourself in the 4th century BC following the sacred path to Apollo temple.
At 17.30 we'll be doing a very special Sunset Yoga session in an amazing outdoor spot nourishing ourselves with a magnificent sunset while we come into the flow of a multi-level yoga session. We start with the Sun Salutations which are the same as the morning classes, but after some gentle poses, we practice a powerful meditation focused on our dreams, desires and life intentions.
Challenge yourself to get a perfect body, a happy mind and a calm soul with an 8 AM Yoga Morning Class. 
After that, witness the Corinth canal, a man-made miracle that connects the Gulf of Corinth with the Saronic Gulf in the Aegean Sea. 
At 17:30, during an Element Ether Special Yoga Session we'll be working the higher Chakras with the Element Ether, the more subtle one. The practice is focused on our arm balances and inversions, giving us bravery, power, and stillness. 
Finest pistachio of the world, olive groves, and some of the most significant monasteries and temples of Greece: plan your own day in Aegina, unspoiled by tourists and without all the extra buzz. Glorious historical past left Aegina with many ancient monuments open for sightseeing. The most impressive archaeological site of the island is the Ancient Temple of Athena Aphaia, dating back to the 6th century BC. 
Aegina is a food lover's paradise - from pistachios being ubiquitous to the freshest seafood. Finish your perfect day in Aegina with an open air Yoga session. 
Conclude your tour with a visit back to Athens. Packed with busy shops and lively tavernas, modern Athens is a colorful counterpoint to classical Greece.
We believe that our yoga cruises are a magnificent chance on which you can soak up some sun on the spacious deck and experience the freedom of practicing Yoga with a stunning bouquet of sightseeing opportunities! 
With all the sites you can explore, this is a worthwhile tour you don't want to miss.
Reserve your Yoga cruise today and get large discounts for advanced booking and an unforgettable experience!