LET YOUR DREAM COME TRUE – VISIT ANTARCTICA ON THE SCHOONER AMAZONE
Regions/Countries:

Argentina Antarctica

Boat:

Amazone

Duration:

18 Days / 17 Nights

Tags:

City

Sports

Island

Secluded

Dates:

Dec 24, 2023
In 2023 Maritime Practice will undertake 5 sail training voyages to Antarctica on the polar schooner Amazone. Every year a large number of tourists visit the southernmost continent, but few go there the most beautiful and ancient way — under sail. Our first sailing voyage to Antarctica was conducted in 2020 — on the polar yachts Wind Dancer and Mon Coeur. In 2021 we organized 4 sail training voyages to Antarctica on the schooner Amazone and we are planning to visit the white continent again in 2023. Our itinerary starts and finishes in Ushuaia, Argentina. You will cross the Drake Passage, learn the basics of sailing, get to the icebergs as close as possible, visit polar stations of different countries, watch penguins and whales in their natural habitat and much more.
Antarctica Cruise price
2-bed cabin:
10900 € per person

Admiral's cabin:
13000 € per person
Sailing yacht, Motor sailor
The two-masted schooner Amazone is an ice class sailing boat launched by Olivier van Meer Design in the Netherlands. She operates in the high latitudes of the Arctic and Antarctica. She is capable of high speeds but is equally comfortable while cruising.
Sailing countries:

Argentina Chile France Iceland Morocco Netherlands Portugal Spain Cabo Verde Denmark Finland Ireland Norway South Africa

...and other

Max guests:

17

Length over all:

42 m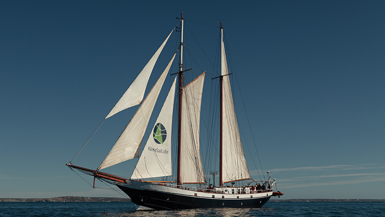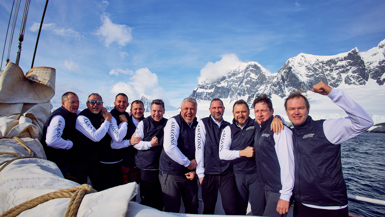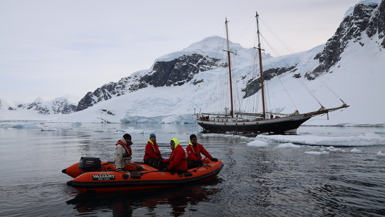 Sunday, December 24, 2023
Antarctica Cruise:
2-bed cabin:
10900 € per person

Admiral's cabin:
13000 € per person
Greenland Cruise:
3200 € / 4000 € / 4800 € per person
(3-bed cabin / 2-bed cabin / Admiral's cabin)