Fly & Sail is a scientific expedition format in which we combine a flight to/from Antarctica and a crossing of the Drake Passage. This is an ideal trip for those who have dreamed of sailing through the Drake Passage, but are not ready to do it 2 times in one expedition.The Starlink satellite system is on board and will provide wireless internet throughout the voyage.
Regions/Countries:

Argentina Antarctica

Boat:

Eldorado

Duration:

14 Days / 13 Nights

Tags:

City

Island

Secluded

Dates:

Jan 22, 2024; Feb 04, 2024
Unlike a large cruise liner with thousands of tourists, the Eldorado can accommodate only 17 people at a time, along with the crew. This allows us to preserve the privacy of the meeting with Antarctica and not to harm the fragile ecosystem of the polar region. Besides, the format of the expedition on a sailing ship allows us to get acquainted with Antarctica as close as possible: to get close to the blue icebergs, to see whales at arm's length and to visit polar stations of different countries.
Motor sailor, Sailing yacht
The two-masted schooner Eldorado is a modern sailing vessel built at the A. Metz Texdok shipyard in the Netherlands in 2007. The schooner was commissioned in 2010. She is fitted with all necessary navigation and rescue equipment for operation in the high Arctic and Antarctica, as well as for autonomous navigation up to 35 days. The ship is equipped with 6 double cabins, each cabin has its own bathroom, WC, heating and air conditioning system.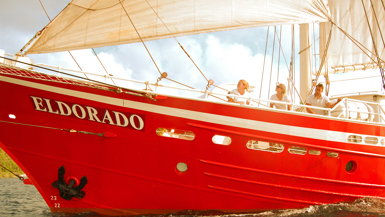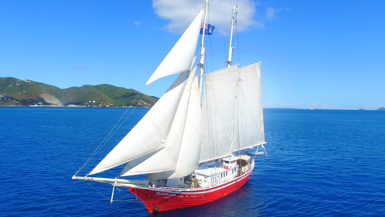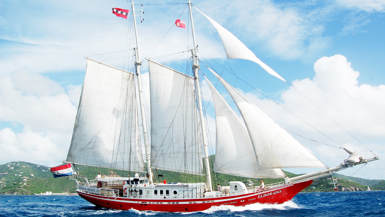 Monday, January 22, 2024
Sunday, February 4, 2024
The Standart cabin:
11900 € / 12750 € (New Year voyage) per person

The Admiral's cabin:
14280 € / 15300 € (New Year voyage) per person
— Ship accommodation
— Breakfast, lunch and dinner daily
— Crew and meal services
— Sail training course on board Eldorado
— A life vest
— Bed linen
— Fuel
— Taxes, port fees and permits, including a permit issued by the National Antarctic Survey
— First aid on board
— A limited access to satellite phone, the ship has satellite systems such as Iridium and INMARSAT (calls are subject to additional fares)
— The flight to Ushuaia (Argentina)
— PCR-tests
50 % – within 3 days after booking
50 % – 2 months before the start of the voyage
Cancellation of the voyage more than 2 months before the selected voyage results in reimbursement or rebooking the trip with required extra payment (depending on the price of the new selected trip). If you cancel the booking less than 2 months before the trip, we will charge you the whole amount of the payment you made. In case you have someone willing to replace you on the trip, we will fully reimburse your payment.